Honda Accord and Toyota Camry: Two Great BHPH Options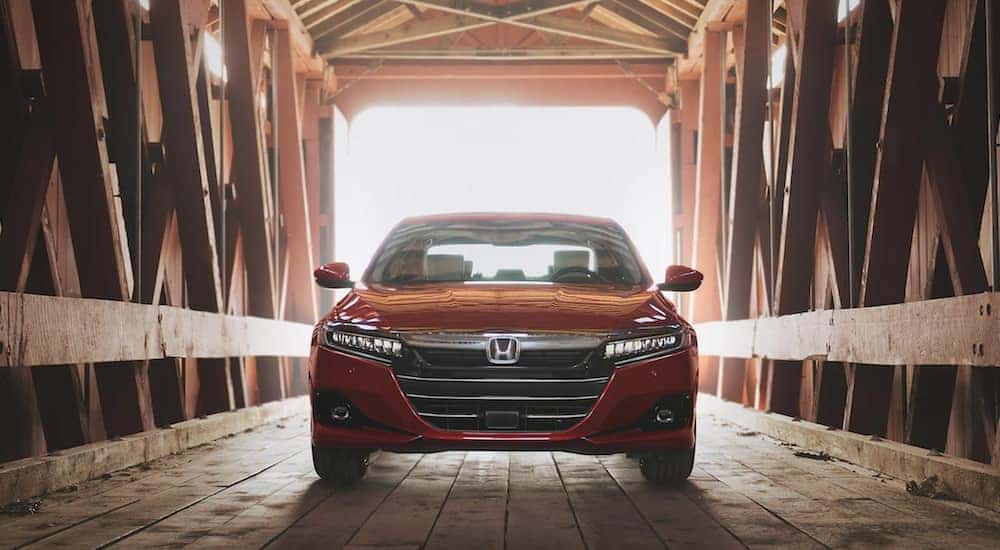 Choosing a great dealership and getting the perfect car comes down to making the right decisions and working with someone who can help you. Here at Auto Now, our family of dealerships is proud to offer fantastic vehicles at great prices, with financing that works for you. If you're looking for a family sedan at a dealer that offers Buy Here Pay Here in Olathe, KS, then you're at the right place. Figuring out which vehicle will best meet your needs, however, can be a bit tricky and often requires a fair amount of research.
The Honda Accord and Toyota Camry are two of the most popular sedans around, and they've been industry leaders for decades. This means you have a lot of different models to choose from in a wide range of years. To help you figure out your best options overall, we're going to take you through some of the most recent generations of these two sedans, so you know what years to focus on. Even if you have little or poor credit, as your Buy Here Pay Here (BHPH) dealership, we're ready to help and make sure you get a great vehicle with financing that works for you.
The Honda Accord – Overview
Although it has been one of the bestselling cars in the US since the late 1980s, the Honda Accord has been in production and available since 1976. It is one of the most popular sedan models around – while it has taken a number of different shapes and forms over the years, including compact and hatchback models, the modern Accord is a midsize sedan. One of the things about the Honda Accord that makes it so special is that it was the first Japanese car to actually be manufactured here in the US. It's been made in Ohio since 1982.
The Honda Accord – Recent Generations
As it's been around since the 1970s, there have been many generations for the Honda Accord, with a lot of different improvements and features from one to the next. For the most part, however, when looking for one of these models, you're going to want to focus on the most recent generations. That would include the eighth generation that launched for the model year 2008, the ninth generation in 2013, and the most recent generation that started in 2018.
The eighth generation of the Honda Accord started with the model year 2008 and is notable for a few reasons. For starters, Honda increased the size of the Accord with this generation: making it 4 inches longer and 3 inches wider. This allowed for greater interior space for passengers and a more luxurious feel overall. The increase in size led to some seeing it as a full-size car, though Honda insisted it was always meant as a midsize model. Both a sedan and coupe were available for the Accord during this time, so keep that in mind when looking at used models.
Starting with the model year 2013, the Honda Accord entered its ninth generation with both sedan and coupe models available. One particularly noteworthy feature here is that the Accord was available as a plug-in hybrid vehicle for model years 2014 and 2015. There was a mid-generation facelift in 2016, and an improved Hybrid Accord became available starting in 2017.
The most recent generation of the Honda Accord launched for the model year 2018. Starting with this generation, the coupe version was discontinued, and it is now only available as a sedan. This latest generation has included improved advanced safety features, an available Head-Up Display, and both manual and automatic transmissions are available. An Accord Hybrid has remained available, so keep that in mind if you're interested in optimal fuel economy.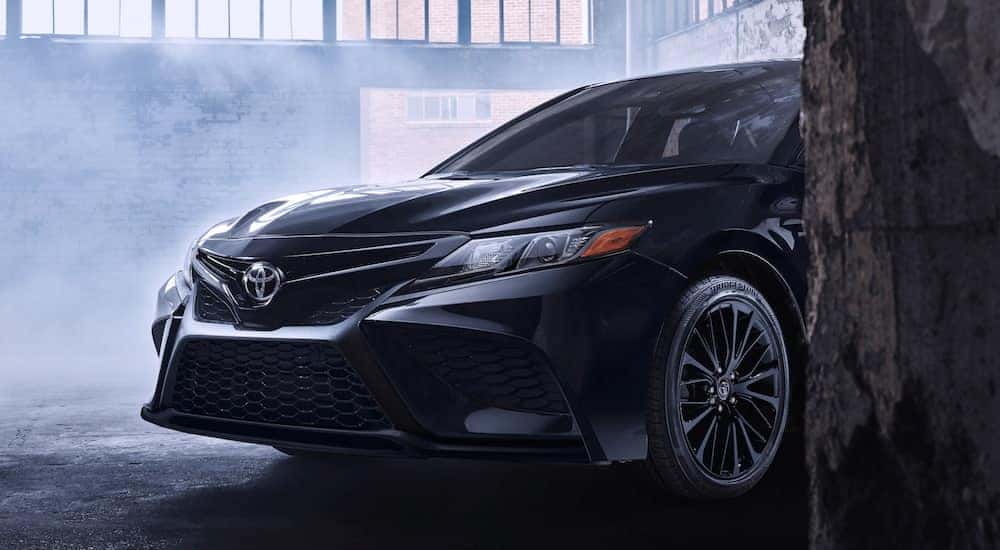 The Toyota Camry – Overview
Alongside the Honda Accord, the Toyota Camry is one of the most popular models you'll find at Auto Now. First introduced for the model year 1983, the Camry has been one of Toyota's most popular models, providing a great offering for anyone looking for a practical and enjoyable driving experience. Over the last almost 40 years, the Toyota Camry has taken many different forms, including a five-door liftback, station wagon, and even a coupe. The one constant, however, has been its availability as a four-door sedan, which is what most people look for in the Toyota Camry.
The Toyota Camry – Recent Generations
Just like the Honda Accord, the Toyota Camry has had many different generations available since it was first introduced. When shopping for a great sedan, however, we suggest you focus on the most recent years and generations to get the best overall driving experience. You can go back to the sixth generation of the Camry, which launched for the model year 2007, choose a model from the following generation that started with the model year 2012, or the most recent offerings that were released with the model year 2018.
The sixth generation of the Toyota Camry goes back a bit further than what we looked at with the Honda Accord, but it's a great choice that you can find at a very reasonable price. Starting in 2007, the Toyota Camry was offered as a midsize sedan with a couple of different engines available. While a 2.4L engine was standard, there is also an available 3.5L V6 engine to watch for – a Camry Hybrid first became available at this time as well.
This was followed by a new generation starting with the model year 2012, which featured all-new styling both inside and out. Available engines for this generation included a hybrid option, so keep that in mind when looking at different used models you find. There was also a significant facelift for the model year 2015, so any Camrys that you find from that time will have different exterior styling and some updated features.
The most recent generation for the Toyota Camry kicked off with the model year 2018, so these are among the finest options you'll find on the used market. One criticism sometimes said about the Camry in the past was that it sacrificed some fun in favor of practicality. The improved engines and performance of the latest-generation Camry, however, really put that complaint to rest, and this is one of the most impressive sedans out there. If you want a really sporty ride, look for a model from 2020 or later with the TRD trim for an improved suspension and great performance.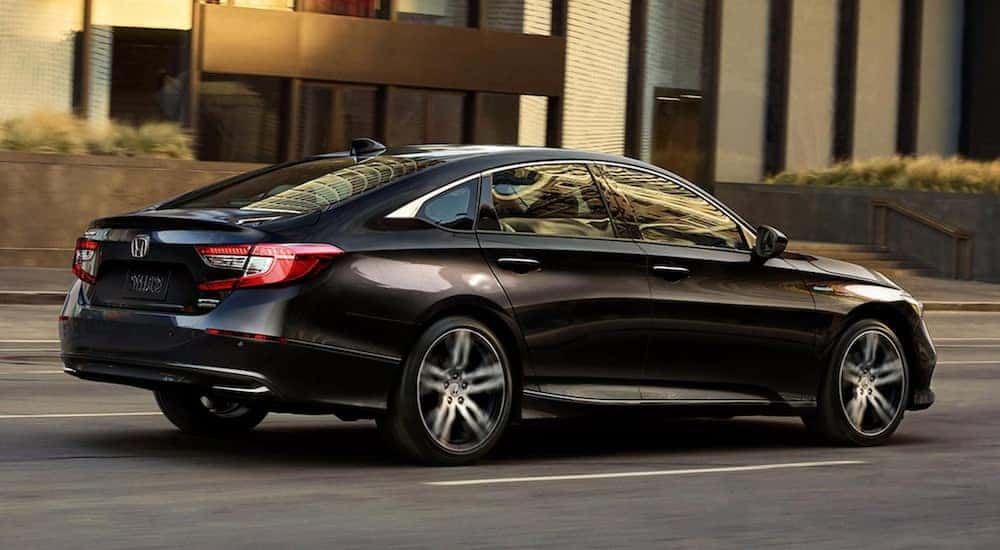 Your Buy Here Pay Here Dealer in Olathe, KS
Whether you like the look of the Honda Accord, or you find the Toyota Camry more to your liking, you'll find them both here at Auto Now in Olathe. We have five other locations, too, if you're in the area but looking for a BHPH dealership in Kansas City, MO, Independence, MO, Topeka, KS, or anywhere else nearby. Whether you have figured out exactly the right sedan for you, or you still have more questions than answers, we're ready to help.
With our Buy Here Pay Here financing, we can pretty much guarantee you a financing solution to meet your needs. We make shopping for and buying your next vehicle easy and straightforward, plus our 24 month Peach of Mind Warranty ensures you can enjoy your car for years ahead. Call or come visit us to find out more and discover a better way to shop for your next car.